---

Christened
2005 February 25th (by Virginia Goodsell)

Saga Ruby was built in the early 1970s as Vistafjord, a combined ocean liner and cruise ship, for Norwegian America Line. At that time she was one of the most luxurious cruise ships in the world. In 1983, she was sold to Cunard Line, retaining her original name, until 1999 to be renamed Caronia. Saga Cruises purchased her in 2004 and started her service in 2005 under the name Saga Ruby.

Saga Ruby is the last cruise ship built in the United Kingdom, and the last truly classic ship after her fleetmate Saga Rose (former Sagafjord) was retired. She has a traditional ocean liner profile with a finely proportioned silhouette, rounded lines, a sleek and terraced superstructure with sheer, a midship funnel and a royal blue styling. She is stable and quiet at sea due to the deep draft, and is still well-maintained until today. Designed and built especially for long-distance cruising, she is an ideal ship for sailing around the world.

Holding not more than 661 passengers, guests will never get lost among the crowd on the vessel. The high ratio of crew to passengers ensures every guest receive attentive and personal service. The atmosphere onboard is sophisticated yet friendly, and has a welcoming "home from home" feel. There are a wide range of spacious public rooms with elegant furnishings and tasteful colours.

For bow to stern, Saga Ruby evokes the magic and romance of a bygone era of cruising. As a real ship with timeless character, she is popular among Saga's repeated passengers. She is suitable to mature travellers over 50 who want a civilized, British ocean cruising holiday with unique itineraries, first-class service, exquisite cuisine and fabulous entertainment on a gracious small-sized ship.

Entered Service
1973 May 22nd (as Vistafjord)
2005 March 1st (as Saga Ruby)
Builder
Swan Hunter Shipbuilders, Newcastle (England)
Original Cost
US$35 million
Registry
Valletta, Malta
Gross Tonnage
24492 tons
Length x Beam x Draft
191.1 x 24.4 x 8.2 (m), 626.8 x 80.0 x 26.9 (ft)
Speed
20 knots
Passenger Decks
10
Number of Cabins
(Inside / Oceanview / Balcony)
382 (60, 288, 34)
Passengers
(Standard Occupancy /
Full Occupancy)
661 / 661
Total Crew
380
Navigation Officers
British
IMO Number, Call Sign
7214715, 9HA2415
Sister Ships
/
History
1973-1983: Vistafjord (Norwegian America Line)
1983-1999: Vistafjord (Cunard Line)
1999-2004: Caronia (Cunard Line)
2004- : Saga Ruby (Saga Cruises)
(Unless otherwise specified, information about Saga Ruby in this virtual ship tour was correct at the time of publishing after the author visited the ship in March 2012. Cruise Wonderland would like to express our gratitude to Saga Cruises in organizing the ship tour for us.)
Click on different decks to view the details:
Deck 3 / Deck 4 / Deck 5 / Deck 6 / Deck 7 / Deck 8 / Deck 9 / Deck 10 / Deck 11 / Deck 12
---
Deck 3 (C Deck)
Deck 3 is the lowest passenger deck which has the Spa Aquarius. It can only be accessed from the midship staircase.
Spa Aquarius:
Operated by Decléor, Spa Aquarius features an indoor plunge pool, treatment rooms (Orchid Suite, Lotus Suite, Lily Suite), men's and women's saunas, a unisex steam room and a hair salon. Massage, spa treatments, facial and beauty services are offered.
| | | |
| --- | --- | --- |
| | | |
| Spa Aquarius | Spa Aquarius (Plunge Pool) | Spa Aquarius (Hair Salon) |
| | | |
| | | |
| Spa Aquarius (Treatment Room) | Spa Aquarius (Treatment Room) | Spa Aquarius (Sauna and Massage) |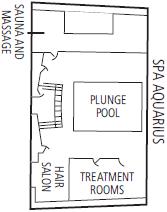 ---
Deck 4 (B Deck)
The Medical Centre is located on Deck 4 and can be reached by the aft staircase. Other area on this deck is for crew only.
Medical Centre:
Medical consultation by British doctors is provided with a charge at the Medical Centre.
---
Deck 5 (A Deck)
Deck 5 is the lowest deck with passenger accommodations, including inside and oceanview cabins.
Inside Cabins:
Inside Cabins can be found on Deck 5, Deck 6, Deck 7 and Deck 9. They have twin beds or double bed, bathroom with water closet and shower or bathtub, storage space, writing desk, mini-bar, air-conditioning, flat-screen television with DVD player, telephone, personal safe, refrigerator, hairdryer, personal toiletry items, and are complimented by included 24-hour room service. A number of single Inside Cabins are also available.
Outside Cabins:
Outside Cabins are located on Deck 5, Deck 6, Deck 7, Deck 9 and Deck 10. They have same cabin amenities as Inside Cabins, and with windows or portholes additionally. There are also some single Outside Cabins.
| | |
| --- | --- |
| | |
| A Deck Midship Staircase | A Deck Hallway |

---
Deck 6 (Main Deck)
Deck 6 is another cabin deck where inside and oceanview cabins can be found. There are also the computer room, a lecture room and a launderette.
Computer Centre:
The Computer Centre is located at the port side amidships. A couple of computers are available for Internet connection and a nominal charge applies.
The Board Room:
The Board Room is situated at the sideboard side, next to the Computer Centre. It can be used for various purposes, such as meetings, enrichment classes or small-scale lectures.
| | | |
| --- | --- | --- |
| | | |
| Computer Centre | The Board Room | Main Deck Midship Staircase |
Launderette:
Free self-service laundry and ironing facilities are provided at the Launderette on Deck 6 forward.
| | | |
| --- | --- | --- |
| | | |
| Launderette | Main Deck Forward Staircase | Main Deck Hallway |

---
Deck 7 (Upper Deck)
Inside and oceanview cabins occupy the forward and aft end of Deck 7, whereas the reception desk and the main restaurant are positioned amidships.
Reception:
The Reception facing the midship staircase is open 24 hours a day. It is the purser's office which handles any queries from passengers.
| | | |
| --- | --- | --- |
| | | |
| Reception | Upper Deck Midship Staircase | Aft Open Deck |
Dining Room:
The midship Dining Room is the main restaurant onboard, which has tables for two, four, six and eight. It offers breakfast and lunch in open seating, and an assigned single seating is featured for dinner between 19:00 and 21:00.
| | | |
| --- | --- | --- |
| | | |
| Dining Room | Dining Room | Dining Room |

---
Deck 8 (Veranda Deck)
Deck 8 is completely composed of public rooms. From forward to aft, there are a lounge, a bar, library and card room, theatre, shop, tours office, photo gallery, a ballroom, a buffet restaurant and an outdoor pool.
Britannia Lounge:
The Britannia Lounge is a smaller performing venue located at the bow of the ship with panoramic sea views. With a circular dance floor, it can be used for cabaret acts, musical concerts, magic or comedy shows, as well as quizzes, cookery demonstrations and art classes.
The South Cape Bar:
The South Cape Bar at the port side forward is an ideal bar for enjoying refreshments and a fine selection of malts, spirits and wines in the sounds of a pianist or a classical ensemble.
| | | |
| --- | --- | --- |
| | | |
| Britannia Lounge | Britannia Lounge | The South Cape Bar |
Theatre:
The Theatre behind the Britannia Lounge is a dedicated cinema which showcases new releases and classics of the silver screen. It is also the venue for Sunday services, as well as talks and lectures on a wide variety of topics by guest speakers.
Library and Card Room:
They are positioned forward at the starboard side and beautifully furnished to provide the comfort for a relaxing day. The extensive Library features a wide selection of reference books, novels and DVDs. On the other hand, sociable passengers can visit the Card Room and join other players for a game of bridge, whist or cribbage.
Veranda Shop:
The Veranda Shop at the port side amidships sells a range of duty-free luxuries, souvenirs, giftware and also essential travel items.
| | | |
| --- | --- | --- |
| | | |
| Veranda Deck Forward Staircase | Theatre | Card Room & Library |
| | | |
| | | |
| Card Room | Library | Veranda Shop |
Tours & Travel:
Tours & Travel is the tours office in which the staff will answer any queries regarding the shore excursions. It is located at the starboard side amidships.
Photo Shop:
The Photo Shop, situated between the tours office and the Ballroom, displays and sells photographs of passengers at various ship's functions. Printing services are also available.
| | | |
| --- | --- | --- |
| | | |
| Tours & Travel | Photo Shop | Ballroom and Photo Shop |
Ballroom:
The midship Ballroom is the main venue for entertainment onboard, with high ceilings and good sightlines from most seats. There are a wide range of activities such as dance classes and afternoon tea during the day. In the evening, programmes including West End-style production shows, cabaret acts and classical music concerts are performed by the resident singers and instrumentalists. The large dance floor also makes the Ballroom suitable for Captain's cocktail party and social dancing.
| | | |
| --- | --- | --- |
| | | |
| Ballroom | Ballroom | Ballroom |
Lido:
The airy and spacious Lido is a casual eatery which provides self-service buffets for breakfast, lunch and dinner as well as late-night gourmet bites. A beverage station and ice cream machine are also available 24 hours a day. Guests can choose to dine at the indoor seats, or alfresco on deck next to the Pool.
Pool & Deck Bar:
The Pool is positioned aft of Deck 8 with expansive open decks and sunbathing space. There is also a small Deck Bar which offers drinks and refreshments.
| | | |
| --- | --- | --- |
| | | |
| Lido | Lido | Lido |
| | | |
| | | |
| Pool | Pool | Deck Bar |

---
Deck 9 (Promenade Deck)
Deck 9 comprises the wrap-around teakwood promenade, a bar and the aft open deck. Oceanview and inside cabins can also be found throughout the deck.
Pre-View:
Pre-View is a late-night spot for pre-dinner drinks and can overlook the outdoor swimming pool at the aft end. It has a dance floor, a small bar, and relaxing colour scheme which creates a delightful feeling. During the evening, live music is played by the resident musicians.
| | | |
| --- | --- | --- |
| | | |
| Pre-View | Promenade | Aft Open Deck |

---
Deck 10 (Sun Deck)
Deck 10 houses some oceanview and balcony cabins, and a small alternative restaurant is positioned aft.
View:
Situated aft of Deck 10 and overlooking the Pre-View bar one deck below, View is an intimate à la carte restaurant for dinner with only 28 seats. Being a popular alternative dining spot for guests to celebrate special occasions, there is no extra charge but reservations are required.
Balcony Cabins:
21 Balcony Cabins are located on Deck 10. Each has a separate living area and a private balcony with deck chairs.
| | | |
| --- | --- | --- |
| | | |
| Sun Deck Forward Staircase | Sun Deck Hallway | Sun Deck Hallway |
---
Deck 11 (Bridge Deck Lower Level)
Deck 11 forward is the bridge, and eleven suites are positioned just aft of it.
Balcony Suites:
Eleven Balcony Suites are situated on Deck 10 and Deck 11, in which three of them are for single occupancy. Each of them has a private balcony, a king-size bed, more closet and drawer space, vanity desk, bookshelves filled with destination books and novels, as well as a large marble bathroom with jacuzzi bathtub and two washbasins. Butler service is provided.
Duplex Suites:
The largest accommodation is the two Duplex Suites, named the Concerto Suite and the Symphony Suite. They are the first two cabins in the cruise industry with two levels, connected by spiral staircase. The lower level has a large bedroom and a marble bathroom with jacuzzi bathtub, whereas the upper level is an expansive living area with floor-to-ceiling windows, a private bar, a library lounge with sound system, another bathroom, sauna and exercise equipment. Each has two private balconies, and a two-person outdoor hot tub can be found on the upper level balcony.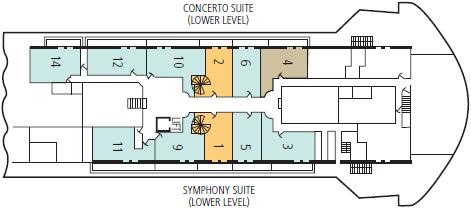 ---
Deck 12 (Bridge Deck Upper Level)
Deck 12 is the highest deck of Saga Ruby, which consists of the Cloud Nine and the upper level of two Duplex Suites. It can be accessed by the outdoor stairs or the aft elevator.
Cloud Nine:
Cloud Nine is a sports complex located atop at the aft of Deck 12, though it is not shown on the deck plan in brochures. There are an indoor gymnasium with ocean views through the floor-to-ceiling windows, a golf simulator room, an outdoor golf net and traditional deck games for passengers to exercise onboard.
| | | |
| --- | --- | --- |
| | | |
| Cloud Nine (Gymnasium) | Cloud Nine (Gymnasium) | Cloud Nine (Golf Simulator) |
| | | |
| | | |
| Cloud Nine (Golf Net) | Cloud Nine (Deck Games) | Cloud Nine (Aft View) |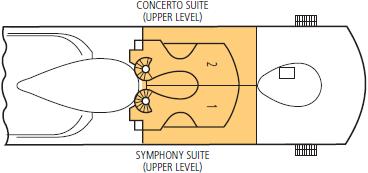 ---