---

Christened
1999 November 12th (by Chris Evert)

Named after the small town in Noord Holland province in the Netherlands, Volendam is the third ship in Holland America Line to bear this name. She made her debut in 1999 and is the second ship in the Rotterdam-Class, combining features of Rotterdam and the Statendam-Class vessels. The marine blue hull follows the tradition as in all other ships of Holland America Line.

Volendam offers a garden of delights. The predominant theme of decoration is flowers, featured in the artwork, doors and other design elements as well as fabrics used throughout the ship's public rooms and staterooms. Rich polished wood and comfortable furnishings also create an inviting atmosphere.

The ship offers diverse dining choices, a two-level showlounge, bars and lounges, library, Internet centre, cinema, boutiques, casino, spa, salon, as well as a wealth of sporting facilities such as two outdoor swimming pools, fitness centre, basketball and tennis courts, and countless activities for different passengers.

Being a mid-sized ship, Volendam is purposefully designed to accommodate fewer guests, resulting in more personal service and spacious feeling. Classic styling and luxurious amenities combine to guarantee a memorable holiday. She is suitable for sailing short cruises as well as exotic voyages.

Entered Service
1999 November 12th
Builder

Fincantieri

Cantieri

Navali

Italiani

S.p.A

.,
Marghera, Venice (Italy)
Original Cost
US$300 million
Registry

Rotterdam

, The Netherlands
Gross Tonnage
61214 tons
Length x Beam x Draft

238.0 x 32.3 x 7.8 (m), 780.6 x 105.8 x 25.6 (ft)

Speed
23 knots
Passenger Decks
10
Number of Cabins
(Inside / Oceanview / Balcony)

716

(134, 385, 197)

Passengers
(Standard Occupancy /
Full Occupancy)
1432 / 1745
Total Crew
615
Navigation Officers
Dutch
IMO Number, Call Sign

9156515, PCHM

Sister Ships
Zaandam (Holland America Line)
History

1999- : Volendam (Holland America Line)
(Unless otherwise specified, information about Volendam in this virtual ship tour was correct at the time of publishing after the author visited the ship in April 2011. Cruise Wonderland would like to express our gratitude to Holland America Line and Sightseers (H.K.) Limited in organizing the ship tour for us.)
Click on different decks to view the details:
Deck A / Deck 1 / Deck 2 / Deck 3 / Deck 4 / Deck 5 / Deck 6 / Deck 7 / Deck 8 / Deck 9 / Deck 10
---
Deck A (A Deck)
Deck A is the deck for tender embarkation which can be reached by the forward and aft elevators.
---
Deck 1 (Dolphin Deck)
Deck 1 is the lowest passenger deck. It comprises inside cabins, outside cabins and the Medical Center.
Medical Center:
Doctors and nurses in the Medical Center, forward of Deck 1, provide basic medical services to passengers during clinic hours.
Interior Staterooms:
Interior Staterooms (182 square feet) are located on Deck 1, Deck 2, Deck 3, Deck 6 and Deck 7. In each stateroom there are two lower beds (convertible to queen-size bed), sofa, vanity area, storage space, air conditioning, flat-panel television, DVD player, telephone, hair dryer, shower, bath amenities, cotton towels and terrycloth bathrobes. Guests can also receive shoeshine service, complimentary fresh fruit basket, daily pillow chocolates, and have complimentary 24-hour in-room dining.
Ocean-View Staterooms:
Ocean-View Staterooms (197 square feet), can be found on Deck 1, Deck 2, Deck 3 and Deck 6. They have large picture windows (some with obstructed view), bathtub and shower, and all other features same as those in Interior Staterooms.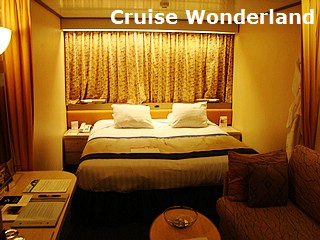 Ocean-View Stateroom

---
Deck 2 (Main Deck)
Deck 2 is a cabin deck, where inside and outside cabins can be found.
Launderettes:
Self-service laundries are available on Deck 2, Deck 3 and Deck 6. Washing machines and dryers can be used with a charge.
| | | |
| --- | --- | --- |
| | | |
| Ocean-View Stateroom | Main Deck Forward Elevators | Main Deck Hallway |

---
Deck 3 (Lower Promenade Deck)
Deck 3 contains inside cabins, outside cabins, base of the Atrium and the Promenade.
Atrium:
The three-deck high Atrium, from Deck 3 to Deck 5, is the interior focal point of the ship. There stands a huge monumental glass sculpture called "Caleido". It is designed by the Italian artist Luciano Vistori, inspired by the myriad and continuously changing moods and colours of a kaleidoscope.
Promenade:
The wrap-around teakwood Promenade is suitable for strolling, reading a book, relaxing or just taking a nap.

---
Deck 4 (Promenade Deck)
Deck 4 is one of two decks that is composed of totally indoor public rooms. There are the main restaurant, an alternative restaurant, the principal showlounge, a cinema, photo gallery, art gallery and the front desk.
Frans Hals Lounge:
The principal showlounge on Volendam is positioned completely forward. It can house 574 guests and spreads over two decks, with the lower level on Deck 4. Dynamic concerts and musical productions starring Broadway veterans, vocalists, instrumentalists, illusionists and comedians, are performed here every evening after dinner.
Photo Gallery and Photo Shop:
They are located at the port side, in front of the Atrium. Passengers can view the photos taken throughout the voyage by the ship's photographers in the Photo Gallery, and purchase the photos and other related items in the Photo Shop.
| | | |
| --- | --- | --- |
| | | |
| Frans Hals Lounge | Photo Gallery & Photo Shop | Atrium |
Front Office and Shore Excursion Office:
The Front Office and the Shore Excursion Office are at the starboard side of Deck 4, near the Atrium stairway. The former opens 24 hours a day and staff is available to help with guests' inquiries, while the latter handles the bookings on shore excursions.
Art Gallery:
The Art Gallery is at the port side just behind the Atrium. Various paintings are displayed here which can be purchased through art auctions. Handcrafts are also on sale occasionally.
| | | |
| --- | --- | --- |
| | | |
| Front Office | Shore Excursion Office | Art Gallery |
Wajang Theater & Culinary Arts Center:
Located at the starboard side amidships, the 125-seat Wajang Theater (comes from the word "Wayang" in Indonesian, meaning "shadow" or "puppet theatre") shows movies with free and fresh popcorn. It also acts as the Culinary Arts Center for cooking classes, demonstrations and seminars presented by authors from Food & Wine magazine.
Wine Tasting Bar & Gourmet Shops:
The Wine Tasting Bar is opposite to the Culinary Arts Center. It is a bar for wine-tasting and cheese-tasting classes held by experts and celebrity chefs.
| | | |
| --- | --- | --- |
| | | |
| Wajang Theater & Culinary Arts Center | Wine Tasting Bar & Gourmet Shops | Promenade Deck Hallway |
Pinnacle Grill:
The Pinnacle Grill (converted from the Marco Polo Restaurant in 2003), situated at the port side amidships, is an alternative and intimate dining venue (84 seats) for lunch and dinner. There is extra charge and reservations are required. Its menus contain mainly Sterling Silver beef and premium seafood, together with extensive selection of wines. "An Evening at Le Cirque" is also offered here once per cruise, featuring a taste of Sirio Maccioni's legendary New York restaurant.
Lower Rotterdam Dining Room:
The two-tiered Rotterdam Dining Room (792 seats) is the main restaurant on the ship. It is non-smoking and aft-facing on Deck 4 and Deck 5. Breakfasts and lunches are served here in open seatings, while dinners can either be in traditional seating or in a flexible and open schedule known as "As You Wish Dining". Guests can also enjoy special Royal Dutch High Tea once per cruise.
| | | |
| --- | --- | --- |
| | | |
| Pinnacle Grill | Pinnacle Grill | Lower Rotterdam Dining Room |

---
Deck 5 (Upper Promenade Deck)
Deck 5 is also the level which consists of many public rooms. Other than the showlounge and the main dining room, there are also many bars and lounges, shops, casino, library, Internet centre and more.
Frans Hals Lounge Balcony:
The balcony level of Frans Hals Lounge can be entered from Deck 5, and the two levels are connected by a pair of sideway staircases.
Ocean Bar:
The Ocean Bar can house 104 guests and is positioned starboard to the Atrium. With live entertainment and a dance floor, it is ideal for social gathering, dancing and having some pre-dinner drinks and cocktails.
Boutique / Shop / Shopping Arcade:
Originally being the Atrium Terrace, the port side of the Atrium now becomes Boutique and Shop. Together with the Shopping Arcade at the starboard side of the Casino, they offer extensive selection on logo sportswear, cosmetics, as well as duty-free jewellery, watches and other luxury products.
| | | |
| --- | --- | --- |
| | | |
| Frans Hals Lounge Balcony | Ocean Bar | Boutique |
| | | |
| | | |
| Atrium | Atrium | Shopping Arcade |
Casino and Casino Bar:
The Casino, which is opposite to the Shopping Arcade, is composed of tables for blackjack, roulette, dice, stud poker, draw poker as well as 105 slot machines. It is closed when the ship is in port. There is also a small, Hollywood-themed Casino Bar which has 25 seats.
Piano Bar:
Following the tradition of Holland America Line, the Piano Bar is located just aft of the Casino Bar. It has a capacity of 84 guests and is another venue on the ship with live piano music, for sing-along fun.
Seaview Lounge:
The Seaview Lounge is at starboard side amidships. It provides an alternative area for private cocktail parties or other small-scale events.
Hudson Room:
Having a capacity of 25 to 50 passengers (depending on the functions), the Hudson Room is essentially a card room. It can also be reserved for group events and parties, or as a meeting room for medium-sized groups with its computers and audio-visual facilities. It is located at the port side, just next to the midship stairway.
| | | |
| --- | --- | --- |
| | | |
| Casino | Casino Bar | Casino Bar |
| | | |
| | | |
| Piano Bar | Seaview Lounge | Hudson Room |
Art Gallery:
Another Art Gallery is positioned at the starboard side of Deck 5 which displays an extensive collection of artwork and antiques.
Merabella Luxury Shop:
Merabella is a luxury jewellery boutique opposite to the Art Gallery. It features high-end watches and pieces from noted designers in an intimate environment.
Explorer's Lounge:
The genteel Explorer's Lounge is opposite to the Explorations Cafe and its maximum capacity is 94 guests. The venue is suitable for high tea or some pre-dining events.
| | | |
| --- | --- | --- |
| | | |
| Art Gallery | Merabella Luxury Shop | Explorer's Lounge |
Explorations Cafe:
The 65-seat Explorations Cafe is located at the port side, between the Hudson Room and the Rotterdam Dining Room. Powered by The New York Times, it is an extensive library and Internet centre in a coffeehouse atmosphere. Oversized chairs allow guests to comfortably read books and newspapers, access to the Internet and check emails, and play daily quiz, sudoku, crossword or jigsaw puzzles. Pastries and espresso drinks are offered from morning till night.
Future Cruises:
In between the Explorations Cafe and the Explorer's Lounge, the Future Cruises counter allows passengers to book their next voyage on Holland America Line at an early-bird discount.
| | | |
| --- | --- | --- |
| | | |
| Explorations Cafe | Explorations Cafe | Explorations Cafe |
| | | |
| | | |
| Explorations Cafe | Future Cruises | Upper Rotterdam Dining Room |
Queen's Room:
The Queen's Room at the port side is a digital workshop just forward of the Rotterdam Dining Room. Computer classes about digital photography, blogging and social networking are offered here.
King's Room:
The 34-seat King's Room at the starboard side is a small, separate dining venue just forward of the Rotterdam Dining Room. It is either reserved for Suite guests or private groups, or used as a multi-purposed meeting room just like the Hudson Room.
Upper Rotterdam Dining Room:
The upper level of Rotterdam Dining Room is also situated aft, with views of two sides as well as the ship's wake. This level is for traditional seating while guests prefer "As You Wish Dining" will have their dinner on the lower level.
---
Deck 6 (Verandah Deck)
Deck 6 is one of two decks with balcony cabins. Except a few inside and outside cabins, all other cabins on this deck are the Verandah Suites.
Verandah Suites:
168 Verandah Suites (284 square feet) are located on Deck 6 and Deck 7. Each include all the Ocean-View Stateroom amenities listed above, plus a private verandah with floor-to-ceiling windows, sitting area, mini-bar, refrigerator, whirlpool bath and shower, oversized bath towels, personalized stationery, fresh flowers, DVD player and access to DVD library, and one-touch telephone concierge service.
| | | |
| --- | --- | --- |
| | | |
| Verandah Suite | Verandah Deck Hallway | Verandah Deck Forward Stairway |

---
Deck 7 (Navigation Deck)
Deck 7 houses the Neptune Lounge, many deluxe balcony accommodations, and also a few inside cabins. The forward end of this deck is the Bridge.
Neptune Lounge:
For guests from Penthouse Verandah Suite and Deluxe Verandah Suites, the midship 22-seat Neptune Lounge offers a private place to relax, socialize with other suite guests, check email at the worktables (the Lounge is Wi-Fi enabled), watch TV on the large screen, and enjoy many other personalized services. Dinner reservations in the Pinnacle Grill, salon appointments and shore excursions booking can be made at the concierge. Coffee, fresh juices and snacks are also available here.
| | | |
| --- | --- | --- |
| | | |
| Neptune Lounge | Deluxe Verandah Suite | Deluxe Verandah Suite |
Deluxe Verandah Suites:
Situated from midships to forward of Deck 7, 28 Deluxe Verandah Suites (563 square feet) are the second highest category accommodations. Besides the amenities available in Verandah Suites, each also has a sofa bed for 2 people, large sitting area and a dressing room. Guests also enjoy additional privileges, including exclusive use of the Neptune Lounge and personal concierge service, complimentary laundry and dry cleaning, high tea service in suite on request, champagne and bottled water provided in suite, free use of binoculars and umbrellas, corsages and boutonnieres for the formal nights, priority boarding and disembarkation, priority dining and seating requests, cold hors d'oeuvres served before dinner, and cocktail party with ship's officers.
Penthouse Verandah Suite:
The largest cabin on the ship is the Penthouse Verandah Suite (1126 square feet), which is at starboard side of the forward end. It has a bedroom with a king-size bed, a sofa bed for 2 people, living room, dining room, dressing room, pantry, oversize whirlpool bath and shower, guest toilet and all other basic amenities, plus the same privileges available in Deluxe Verandah Suites.

---
Deck 8 (Lido Deck)
Deck 8 is one of the decks for sports. There are two swimming pools, gymnasium, beauty salon, bars as well as the buffet restaurant.
The Greenhouse Spa & Salon:
The tranquil, Asian-inspired Greenhouse Spa & Salon at the forward of Deck 8 was completely renewed in the "Signature of Excellence" upgrade in 2005. It features a Beauty Salon with European-trained aestheticians, spa treatment rooms with skin, body, hair and nail treatments, massage, saunas, relaxation area, and a Thermal Suite with heated ceramic lounges, hydrotherapy and thalassotherapy pool.
Fitness Center:
Located forward of Deck 8, the Fitness Center has much training equipment such as weights and aerobic machines. The Aerobics Area at the port side is for many classes in yoga, tai-chi, Pilates, spinning and cardio circuit training, which are taught by qualified, personal fitness instructors.
| | | |
| --- | --- | --- |
| | | |
| The Greenhouse Spa & Salon | Fitness Center | Aerobics Area |
Lido Pool and Whirlpools:
The midship Lido Pool is the main swimming pool onboard, accompanied by a live band stand and some eye-catching leaping dolphin sculptures created by the American artist Susanna Holt. Together with two small Whirlpools (hot tubs), they can be sheltered beneath a retractable roof called magrodome in poor weather.
Terrace Grill:
The Terrace Grill at the forward, starboard side of the Lido Pool offers poolside casual dining in the afternoon. Salad, burgers, hot dogs, wraps, fries and other grilled fast food items are served.
| | | |
| --- | --- | --- |
| | | |
| Lido Pool | Whirlpools | Terrace Grill |
| | | |
| | | |
| Lido Pool (Chess) | Lido Pool (Table Tennis) | Lido Pool (Poolside Dining) |
Lido Bar:
Close to the Lido Restaurant, there is the Lido Bar which offers refreshments and drinks.
Lido Restaurant:
The aft Lido Restaurant has 394 seats and serves as a casual and relaxed alternative dining venue for all three meals. Buffet-style breakfast selections include omelettes, pancakes, bread, fresh fruit, cereals and yogurt, whilst a special theme of food from around the world is selected for lunch each day. For dinner, waiter service is provided same as that in the main Dining Room. Late-night snacks are also served. Guests may choose to dine indoor, or al fresco on deck near the Sea View Pool.
Canaletto Restaurant:
Part of the Lido Restaurant is the Canaletto Restaurant. It is a classic Italian restaurant (complimentary) which features pastas, risottos, grilled meats and more for dinner in a relaxed setting.
Sea View Pool and Sea View Bar:
Another swimming pool, known as the Sea View Pool, is situated aft of Deck 8. Surrounded by many teak deck chairs and tables as well as the Sea View Bar, it is an ideal place for relaxing and having a meal with the expansive views off the back of the ship.
| | | |
| --- | --- | --- |
| | | |
| Lido Bar | Lido Restaurant | Lido Restaurant |
| | | |
| | | |
| Lido Restaurant | Canaletto Restaurant | Sea View Pool |

---
Deck 9 (Sports Deck)
Deck 9 comprises a forward observation lounge, two sports courts under the funnel and the children activity centre. There is also the outdoor sun walk and jogging track surrounding the magrodome and the Lido Pool one deck below.
Crow's Nest:
Same as on other Holland America ships, the Crow's Nest is a observation lounge with panoramic sea views, situated forward of the top deck. With a capacity of 220 guests, it houses many enrichment classes in the daytime, and is transformed into an elegant, live-music night club in the evening.
| | | |
| --- | --- | --- |
| | | |
| Crow's Nest | Crow's Nest | Crow's Nest |
| | | |
| | | |
| Crow's Nest | Sports Deck Forward View | Sea View Pool |
Practice Tennis Court and Basketball Court:
Two sports courts are positioned under the funnel. The Practice Tennis Court is at the port side whereas the Basketball Court is at the starboard side. There is also area for playing shuffleboard and ring toss.
Club HAL and The Loft:
A wide variety of youth- and teen-friendly activities and facilities are provided on the ship. There are two levels of expansive area for kids and teens supervised by full-time staff. Part of the Club HAL is for Kids (ages 3-7) with art tables and big-screen televisions, while another part is for Tweens (ages 8-12) with disco parties and arcade games. The Loft at starboard side is for Teens which is a lounge with Internet access.

---
Deck 10 (Sky Deck)
Deck 10 is the highest deck on Volendam which consists of the upper level of children facilities behind the funnel, as well as the forward observation area.
The Oasis:
Being the upper level of children's area, The Oasis is exclusively for Teens. It is the private sun deck decorated like a jungle, with deck chairs and a waterfall.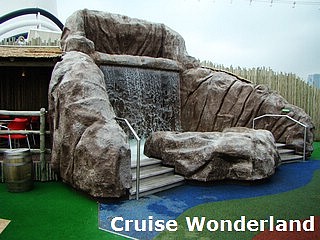 The Oasis
---