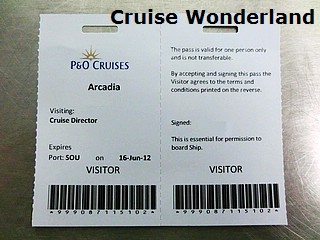 Being a loyal passenger of P&O Cruises, I wish to have the opportunity to board all seven ships in the current fleet. As I had already travelled on Oriana and Aurora in 2010 and 2011 respectively and visited Adonia in 2011, my targets this year are the four remaining members. This can be achieved within my one-month travel to Europe in this summer. I sailed on Azura for seven nights on 9th June, followed by day visits on Arcadia and Ventura on 16th and 17th June. Finally there will be another nine-night cruise on Oceana departing on 24th June.
Due to a change of port on the previous day, Azura already arrived back in Southampton at midnight of 16th June, six hours earlier than the original schedule. When I woke up at dawn, I was able to witness four other vessels entering the harbour one by one, including Independence of the Seas of Royal Caribbean International), Arcadia and Oriana of P&O Cruises, as well as MSC Opera of MSC Cruises. What a busy day here!
The tour on Arcadia was scheduled at 11:00 for me and my friend. After disembarking Azura at the Ocean Cruise Terminal, we had to first go to Southampton city centre and drop our luggage at the hotel, and then rushed to Mayflower Cruise Terminal at the other end of the port. It was our second time coming to this berth since last year we also disembarked Aurora here. We received our visitor passes at the Crew Pass Office and proceeded to the crew gangway for embarkation. Just beyond the security check, we met one of the Entertainment Officers and she would be our guide onboard.
Arcadia has called to Hong Kong for several times in her previous years' world cruises, and I was delighted to have the chance to visit her eventually. The first part of the tour was going through the public areas from Deck 12 to Deck 9, including the open decks, The Crow's Nest forward observation lounge, two swimming pools, the Sports Court, The Orchid Restaurant and Bar, The Belvedere buffet restaurant, as well as the spa, fitness and relaxation facilities.
Afterwards we had the chance to take at glance at different categories of passenger cabins, located between Deck 8 and Deck 4, from inside, outside and balcony cabins, to Mini-Suites and even Suites. Since the 23 Suites on Arcadia are named after big cities around the world, we particularly asked the crew to bring us to the Hong Kong Suite (B59) on Deck 7. Although it has no difference with the others, we felt so intimate as it represents our city! If I travel on this ship in the future, I must try to book this Suite.
Next we went to the lowest decks with some more amenities. The Palladium showlounge, the Meridian Restaurant, Ocean Grill speciality dining room, a number of bars and lounges, The Screening Room cinema, the Library, Monte Carlo Casino, several shops, as well as the Atrium with passenger services desks could be found from Deck 3 to Deck 1. Detailed descriptions of the Arcadia's onboard facilities can be referred to the virtual ship tour in the previous section.
Through this visit, I was able to find out more unique characteristics of Arcadia. Comparing with other fleetmates, she is quite distinct in terms of distribution of public rooms. This is probably not only because of her adult-only nature, but due to a completely different source of design. Most P&O ships are the sisters of Princess Cruises' vessels (Azura and Ventura share the same layout as Grand Class, Oceana is a sister to Sun Class, and Adonia's overall arrangement is the same as Explorer Class). On the other hand, Arcadia looks more alike to vessels of Holland America Line. As a result, her interior decorations are less lively but more sophisticated. She is surely more suitable to mature passengers and for sailing long voyages.
We would like to thank Kate Rist, the Senior Public Relations Executive of P&O Cruises, for arranging the tour for us. Until now I have already been onboard five P&O vessels. I will have another visit on Ventura tomorrow in Southampton again, and also my vacation on Oceana next week. The "Grand Slam" is going to be completed very soon! Last but not least, I look forward to welcoming Arcadia to Hong Kong again in the near future.